The Role of Asset Integrity Management Software in Tackling Operational Challenges
The Role of Asset Integrity Management Software in Tackling Operational Challenges
August 31, 2020
Posted by:

Velosi Author

Categories:

Asset Integrity, Insights

Asset Integrity Management (AIM)
Industrial organizations need a cost-effective way of conserving production capability while maintaining the integrity of their assets and meeting the demands of modern legislation. Hence, these organizations uphold asset integrity management to refrain from unplanned downtime and the associated safety and environmental incidents.
Asset Integrity Management Software (AIMS)
Asset Integrity Management Software (AIMS) defines the capability of an asset to carry out its obligatory functions accurately whilst protecting health, safety and the environment. AIMS ensures that labors, systems, processes, and resources that deliver integrity are in place, in use and will perform properly when required over the whole life-cycle of the asset. It can adequately manage and diminish corrosion and fatigue cracks that can lead to the deterioration of various components.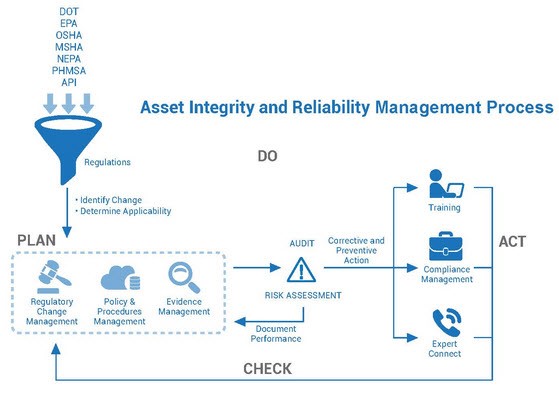 The Asset Integrity Management (AIM) market is mainly driven by the ever-growing investment in the oil and gas sector to meet the mounting global demand. The main industry sector served by AIM providers is energy sector including upstream oil and gas, gas plants and gathering systems, pipelines, LNG projects, oil refineries, power generation and renewable energy (wind, solar, biomass and cogeneration). Other popular industries where AIM is applied include mining, aerospace, manufacturing, utility, and chemical, among many others.
Major Challenges of Asset Integrity Management Software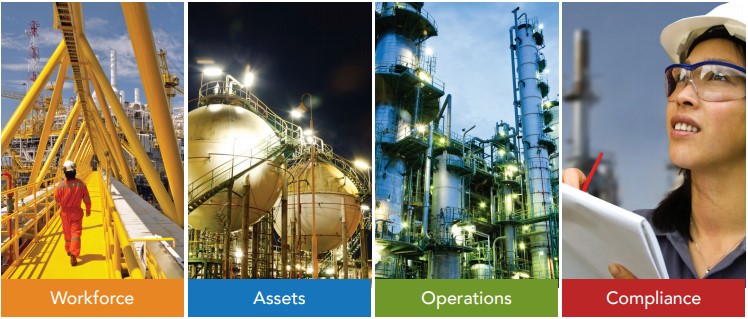 While implementing an Asset Integrity Management Software to protect critical assets, one of the critical factors to consider is regulatory compliance. Strict adherence to regulatory standards safeguards organization from possible fines or insurance benefit losses, leading to failed audits. Additionally, it increases the profit potential of the companies by enhancing equipment reliability and narrowing costly instances of crucial asset failure.
Also, inconsistency and unpredictability over disciplines, assets, and sites occur with larger enterprises ? especially in the oil and gas market – due to the often outsourced nature of many of the workflows, the wide range of asset types in multiple locations, specialist departments, and software platforms.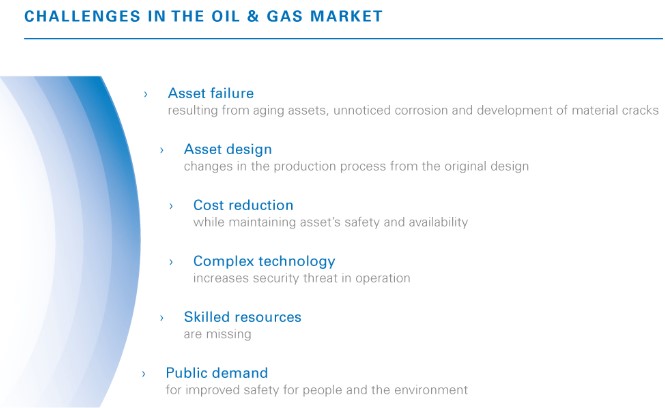 Hence, it is of paramount importance to ensure that the audit compliance remains the same for all in order to prevent and avoid catastrophic equipment failure; compromised health, safety and environment; loss of insurance benefits, and/or exponential fines.
Efficient Asset Integrity Management System is Key to Business Success
A well-designed Asset Integrity Management Software tackles all the above-mentioned operational challenges by:
Formulating extensive maintenance and inspection data history
Organizing data according to the requirements of global regulatory standards, adhering to any given audit at all times
Setting up Risk Assessments in any RBI(Risk-based Inspections) model
Creating integrity manuals and develop inspection plans
Scheduling a full assessment of external and internal inspections
Creating, monitoring and trending corrosion rates
Producing automatic reports summarizing equipment status, inspection reports and frequency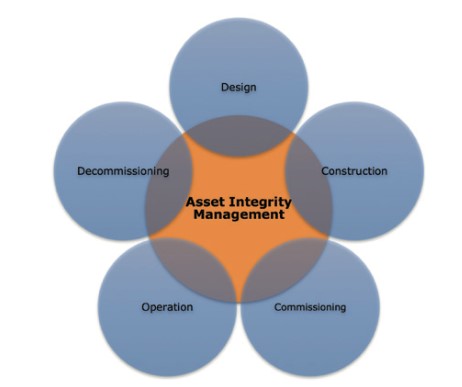 Application of Asset Integrity Management Software
AIM software is managed at each stage of the asset lifecycle, including project design, asset operation and decommissioning. Inspections, auditing/assurance and overall quality processes are just some of the means to execute an effective Asset Integrity Management Program. A program can contain:
Risk-based inspection strategy
Condition-based maintenance
Vibration induced fatigue failure solutions
Pipeline integrity management for corrosion
In-service inspection with routine and specialist non-destructive testing
Reliability centered maintenance (RCM)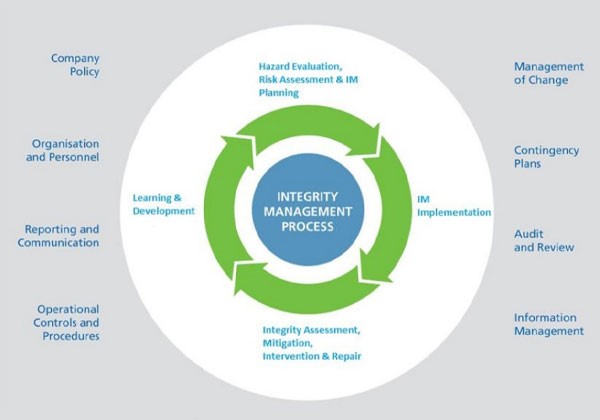 Remember, AIMS does not exist in isolation. In order to implement an Asset Integrity Management Software successfully in a dynamic operating environment, it is vital that all stakeholders have a consolidated understanding of what the fundamentals of asset integrity are and how they can be applied in their day-to-day operations.
The Essential Features of AIMS to Tackle Operational Challenges
A well-conceived Asset Integrity Management Software can help organizations develop, optimize and implement an effective system for all asset types. It guarantees sustained operational integrity and operational excellence across all functions.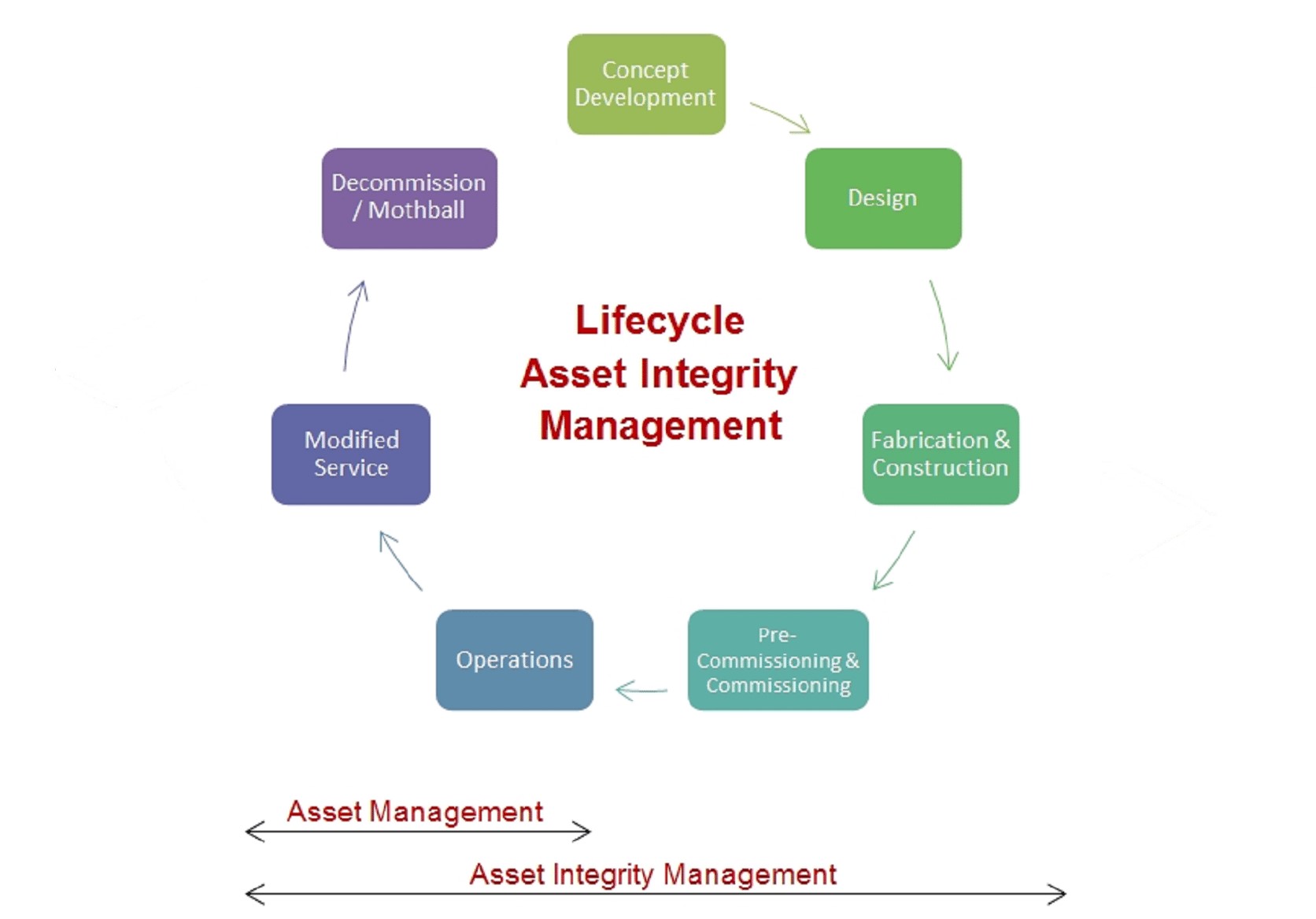 Common features of AIMS comprise:
Security – Through tiered access, the application is secured enabling the access and edit permissions to be set person by person, module by module. Also, data is secured through encryption.
Deployable via Intranet and from Any Place – The software can be accessed in numerous manners, such as through a web browser or by using a local copy from the user?s PC, depending on customer and project requirements.
Data Capturing and Review – Data from the different team members is transmitted through client and browser-based applications, allowing individuals to work separately, enabling the information to be reviewed by specialist engineers outside of the immediate project.
Corrosion Loops – AIMS permits similar items of equipment with similar operating conditions and decay mechanisms to be gathered together to form what is sometimes called corrosion loops.
Consistent Workflow and Management Reporting – Each equipment item review is subject to an array of secure stage gates to collect and analyze all the input data, and to capture recommendations.
Risk Assessment – The assessment criteria for HSE and business consequences are designed to the client?s own risk assessment criteria.
Portfolios – Standard templates are handy for each sector, involving oil and gas, refinery, petrochemical, pharmaceutical, and power, prompting assessment of relevant deterioration mechanisms for each sector.
Automated Report Generation – Summary and detailed reports of each ?risk-based inspection review project program? can be generated in Word and Excel. The format of these reports can be configured in the field on a project by project basis.
Conclusion
With the apt Asset Integrity Management Software in place, all the relevant asset data can be regularly managed automatically. It makes auditing a stress-free experience and ensures peace of mind to organizations, knowing the fact that compliance is ongoing and automatic. Moreover, AIMS upgrades the reliability and integrity of the assets as a whole, resulting in lesser unplanned shutdowns and decreased equipment failure.