SAIPEM- Safety Studies for 8 Future Wells
SAIPEM

United Arab Emirates

Middle East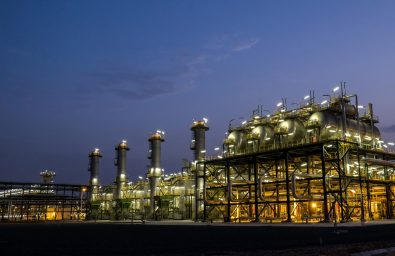 Velosi was assigned by SAIPEM to perform EPC works for early TIE-INS, Shah Gas main Plant, at Shah Sulphur station & gas.
The list of Release sources:
Tie in at unit 719 including transfer line receiver no 3.
One new supplemental side cooler per train (721/722-E-308 & 721/722-E-358).
Propane supplied by the spare capacity of Central Refrigeration Unit-730 to Solvent Regeneration.
New equipment is added for OSGE scope of work in a central area for Units 731/732/733/734:
One new N, N-bis (hydroxyethoxyethyl) urea (BHEEU) converter (731/732/733/734-E-108) is installed to obtain a lean solvent with an acid gas loading of 0.0303 mol/mol;
One new HP Converter liquid flash drum (731/732/733/734-V-114);
Two new HP converter FEED Pumps (731/732/733/734-P-113 A/B);
One new HP converter condensate drum (731/732/733/734-V-115);
One new Lean solvent trim cooler (731/732/733/734-E-107);
One new supplemental regenerator Overhead Condenser (731/732/733/734-E-109).
Compressors change of operation from 2 x 50% to, 3 x 33 % configuration to meet OSGE capacity.
The following equipment is modified for OSGE Scope of Work
Re-bundled Propane Compressor (741-C-201 / 742-C-201) with new motor;
Re-wheeled Turbo Expander/ Recompressor (741-EC-301 / 742-EC-301);
Modified Demethanizer (741-V-304) internals.
Due to the increased capacity of the OSGE facility, the Shah Sulphur Station shall include the following modifications to ensure the increased throughput of Sulphur which can be processed
Additional Sulphur Day Vessels & associated coolers;
Liquid Sulphur Filters;
Sulphur Granulators and associated feed pumps with the aim of maintaining the current operations philosophy for increased capacity;
Modification of the existing Sulphur coolers associated with day vessels.
With regards to the gas gathering system, 4 current plus 8 future wells at Main Pad 8 (MP8) are foreseen as a part of OSGE Scope of Work.
Velosi's expert technical team efficiently conducted the studies by reviewing and compiling input data, clarifying inputs, and preparing a final report with conclusive outcomes. The model run encompasses all risks, including unforeseen component failures.
Velosi successfully carried out the Health, Safety and Environmental Impact Assessment (HSEIA) Studies for 8 Future Wells.
Velosi submitted the following deliverables:
HAZID/ENVID/OHID Workshops and Reports
Environmental Impact Assessment (EIA)
Quantitative Risk Assessment (QRA) Report
Emergency System Survivability Analysis (ESSA) Report
Evacuation, Escape and Rescue Assessment (EERA) Report
Fire and Explosion Risk Assessment (FERA) Report
HSECES identification, Performance Standards
Control of Major Accident Hazards (COMAH)
HSEIA Report