CARBON BLACK MASTER BATCH (CBMB)-FEED SERVICES
Abu Dhabi Polymers Company Limited (BOROUGE)

Ruwais Industrial Complex Abu Dhabi

Middle-East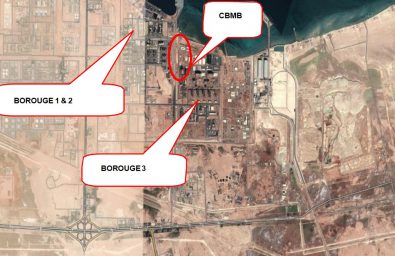 Abu Dhabi Polymers Company Limited (BOROUGE) proposed Velosi to provide Carbon Black MasterBatch (CBMB) - Front End Engineering Design (FEED) services for their plant located at the Ruwais Industrial Complex Abu Dhabi, UAE.
FEED Services: To provide FEED services in an efficient manner that includes Technical Bid Evaluation and HSEIA studies.
Design, Supply, Testing and Installation of CBMB Plant
Product Handling
New Substation and New SIS
Modifications of existing facilities outside the CBMB plot
New Control room
Instrumentation and Automation tie-ins
Utilities tie-ins with existing B3 U&O3
Electrical Power Tie-ins from XLPE substation of B3 Plant.
Connecting roads with existing plant.
Technical Bid Evaluation
HAZID/ENVID/OHID Workshops Procedures & Reports
QRA Methodology & Assumption Register
OHRA Report
HSEMS Review
EIA Report
Environmental Baseline Scoping
ESSA Report
Quality Performance Standards
HSECES Performance Standards
Dust Explosion Study Report
QRA Study Report
Bow Tie Workshop Procedure
Bow-Tie Assessment Report
COMAH Report
FEED Phase HSEIA Study Report