Ms. Mubeena Khatoon
Director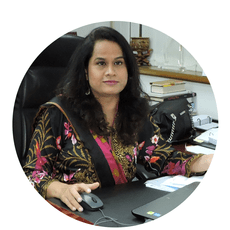 Ms. Mubeena Khatoon is presently working as a director of engineering services for Velosi Pakistan and VAIL Abu Dhabi. She has over twenty-one (21) years of working experience in Project Management, Engineering Consultancy Services, Conceptual Study, FEED, Detailed Engineering Design, RBI, RCM Studies, in Oil & Gas and Petrochemicals Industries. Experience includes Piping/Pipeline Design, Piping/Pipeline (CS, SS, GRE) Stress Analysis, Pipe Support Design & Selection, Piping Design Layouts, Pipeline Alignment Sheets preparation, Piping Specifications, Valves Data Sheets, Specialty Items Datasheets, Material Take Off, Pipe Material Requisitions, Vender Data Review, Technical Clarification, Technical Bid Evaluation, recommendations and acceptance.
Familiar with ASME, API, ISO, UKOOA, BS, SHELL DEP, BP, TOTAL, ARAMCO, ADMA, NFPA Codes, and Standards. Participation in various workshops such as HAZID, HAZOP, SIL and 3D-Model review etc.
Worked as a Project Manager for various jobs which includes preparation of Operating Manuals, Operating Procedures, Inspection & Maintenance Procedures, Asset Integrity Management Systems documents, RBI studies, RCM studies, Design Review/Verification, FEED, Detail Engineering, FFS, GSA and RLA projects, for major Oil and Gas companies including ADCO, ZADCO, ADGAS, KPOC, QP, Dolphin Energy, QAFCO, DOTL, GASCO, TAKREER and LUKOIL.
Also worked at a Department Head position with man-power ranging from 70 to 110 Engineers, Designers and Technical Supports working on different engineering projects. Job duties include Department Management, Tender Preparation, Project Budget, Planning, Scheduling, continuous monitoring & control throughout project execution, preparation of Weekly & Monthly Progress Reports, preparation of monthly Project Cost Status Report, Project Profit/Loss Trends, Invoices, Variation Orders Issuance, follow up, and coordination.
insights