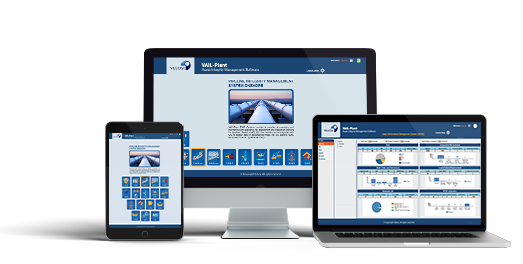 Velosi Software
Solutions
Velosi has successfully developed and implemented multiple
software solutions for a diverse range of clients in the energy sector around the world.
Learn More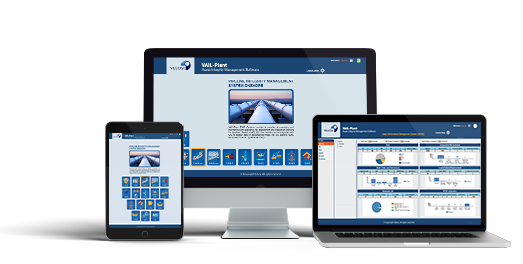 Velosi Software
Solutions
Velosi has successfully developed and implemented multiple
software solutions for a diverse range of clients in the energy sector around the world.
Learn More
VAIL-Plant Module - Computerized Maintenance Management System(CMMS)
Computerized Maintenance Management System (CMMS) is a method that helps organizations plan, measure, and optimize power utilities' maintenance policies, programs, and supporting system, ensuring the maximum network reliability with minimal business risk and maintenance costs.
Velosi's Computerized Maintenance Management System module can address the complete life cycle of a technical object such as notification and work order processing until the closeout of inspection maintenance. With our maintenance management system, it gets easier for operators to create and track work activities, parts usage and asset life cycle, and to address their strategic goals efficiently.
When it comes to fully optimizing your assets under a single roof, managing the work orders, and handling the maintenance plans, an Enterprise asset management Software(EAM) helps you streamline every workflow, saving time, money, and frustration. Schedule and perform your Preventive, Predictive, Corrective and Condition based maintenance tasks for Task Management, tracking, product conditions, and renewals to increase the utilization of assets and technicians.
Computerized Maintenance Management System (CMMS) is a powerful tool that keeps track of information about an organization's maintenance operations and facilitates smooth scheduling management, planning operations, resource management, material management, document management and calendar management, forecasting and executing maintenance activities within your facility in order to make informed decisions.
Benefits of CMMS
Generates and prioritizes work.
Monitors the status of equipment or assets.
Allows operator to plan, manage, schedule maintenance and approve work orders.
Keeps a track of all scheduled and unscheduled maintenance activities.
Improved planning and scheduling.
Maintains past historical records of all work orders that have been issued.
Produce real-time records of current job activities.
Tracks resource, budget and labor costs for every component.
Facilitates inventory control with an integrated range of capabilities.
An effective and affordable application that eases the efficient use of resources.
Manage & maintain your work order creation tasks from anywhere to increase productivity.
Protects & extends the life of assets with improved planning & scheduling.
Maintaining a track of asset/equipment inventory of any size.
Robust planning and scheduling of performance, deployment & maintenance of fixed & linear assets.
Get rid of Excel spreadsheet and digitalize your maintenance practice.
Boost the production level with user and system level authorizations, error-free alerts & irregular detection.
Custom analytical report of equipment history from installation to replacement.
Keeping a track of the cost of labor and materials and quickly identify bad actors.
Empower your field staff with our appropriate asset database system for better forecast the future needs & increase first-time fix rates.
CMMS Deliverables
Work Order Management and Preventive Maintenance Plan
Maintenance, Repair and Operations (MRO) Inventory Management Register
Asset Management
Keep track of Asset manufacturer, model, serial number and FL/EQ class and type.
Asset Tree Hierarchy with complete information of parents /children relationship.
Gain insights into Asset Health and Criticality.
Locate the Asset with the stored Location details.
Monitor Asset Reliability and Validity.
Associate a number of documents with your assets and more.
Maintenance Notifications
Keep track of the asset details, breakdown details and action performed.
Monitor notification processing activities from the start of the request to the end date.
Assign tasks and co-ordinate with the department affected by the problem.
Describe faults or exceptions based on notification type.
Record the list of tasks and work performed.
Work Order Management
Work orders provide significant information on maintenance performance, costs, and equipment history by containing precise data. Among the information tracked with work orders are:
Type of work order, asset information, description, and priority.
Maintenance Activity, Work Center, Location and Timeline details.
Operational instructions and their scheduled start and completion dates.
Assign Cost Center, WBS element, or technical profile.
Detailed information for Personnel allocated, work hours, material used and expenses.
Detailed spare component utilization.
Define strategy, frequency, Service level agreements (SLAs) and Task List.
Associate a number of documents with your work order.
Work Order life cycle data: what is the current status of Work Order, is it 'in process', 'deleted', 'completed' or 'closed'?
Maintenance Planning and Execution
Determine whether the task is planned maintenance or unplanned maintenance.
Establish asset maintenance policies, including preventative maintenance programs, tasks, components, and resources.
Associate Documents with Inspection Plan.
Setup maintenance based on Time-Based, Performance or Single Cycle strategies.
Calculate the remaining life and the Next Inspection date of your asset.
Automated alarms and notices for Maintenance scheduling.
Track your maintenance operations whenever necessary.
Easy creation of work orders.
Automated Work Order Scheduling availability.
Execution of outline checks in accordance with your company's maintenance strategy.
Develop daily, weekly and monthly schedules, determining priorities for work, assigning maintenance work to technicians and maximizing asset.
TML Recording
To perform more extensive inspections, classify inspection points including:
Minimum and maximum values.
Detailed Inspection Results.
Tolerances and default actions for out-of-measurement limits.
Preventive maintenance actions when a minimum and maximum value is recorded.
Reporting and Analysis
Convert your data into intelligence and insights.
Measure and monitor business performance.
Meet your key performance indicators (KPIs).
Document Management
Document Control system to be used as Data Bank.
Integrate with Third party solutions for Document Management.
View and add different format documents under multiple categories.
Open integrations
Automate your process save time. Turn Data into action with smooth integration with
Enterprise Asset Management (EAM)
Enterprise Resource Planning (ERP)
IoT Hardware and software